And then she opened her eyes and started to dream…

You arrive safe and sound but tired like hell after a 30 hrs journey around the world to become Open Water Scuba Instructor. During the flights you listend to your music and you laughed out loud so happy and cried silent tears wondering why the hack are you doing this? What drives you to leave your loved ones, your friends, your colleagues, your hometown for such a long time? What unknown force pulls you constantly closer?
Maybe it's the depth of the sea…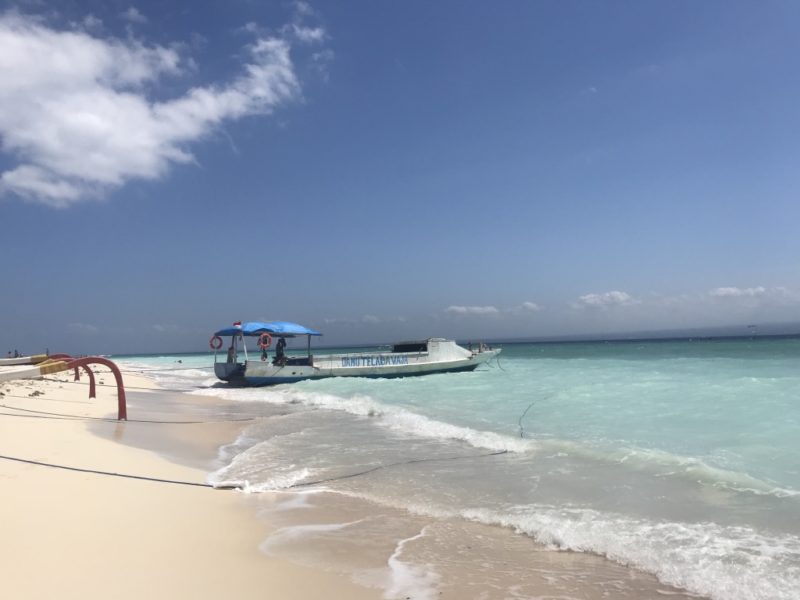 But as soon as you arrive at the airport, smell the air, see laughing faces and helping hands, feel the heat and look at your watch that is telling you that you're finally back in your favorite time zone: it all feels like it should be.
Let the scuba games begin. The rest is fate…
They told you that the boats are not running to the island because of bad weather since 4 days. ? So make the most of it: enjoy laughing with the locals, food and a walk at the ocean. Finally you see it… your beloved magic sparkling blue. Just to look at it gives you so much energy, although damn jet-lagged.
You decide to try everything to go to the island with the help of your awesome 'travel-agent-course-director'. Flights are too expensive. Fast boats not running. Last chance: public boat to Lombok. Hooray! A 12 hrs journey is waiting for you ??! 
Then you made up your mind. And order pancake instead of eggs for breakfast. ?
Earned a thank you again
The next day. Your friend from the dark side of the moon told you a ferry sank at a place nearby. You follow his advice to stay. No trip. No island yet. But safety first. 
Time to relax and learn for your instructor development course. Make the most of it.
At dinner you suddenly think someone is shaking the table and complain to stop. Then a wave runs through the earth, directly into your stomach. Everybody runs out on the street. That was a big shake!!
The earthquake was 6.8. So unreal scary…
It was in Lombok again where 10 people died last week due to a terrible earthquake. Thanks God your friends at Gili Trawangan are safe and sound. Your thoughts are with everyone in Lombok.
No Tsunami warning. 
Imagine you didn't follow your friends warning to go to Lombok today…
Coincidence or fate: his advice safed your life somehow. 
Maybe there's still a change not to die as a Divemaster…
At the evening you read a blog and it came to your mind like a blizzard! Why you didn't thought about this earlier? 
You love writing since you was child. You're a marketing expert with proven records in pr, social media and event management. You love diving to the moon and back. 
Why not combine these passions?!
Tragedy brings out the worst and best of human nature
Hard to describe your feelings about the earthquake in Lombok. You talk with your friends who have been evacuated from Gilis. Admiring those who stayed there to help rebuilding this beautiful island. Your thoughts are with them and all there families and friends. You donate and try to help as best as you can. 
There was another smaller shake today but luckily nobody was hurt. What a crazy dance on the ring of fire …
If you want to help the people in Lombok please do so. So much is destroyed and people lost their entire homes. 
You heard about tourists grabbing all food from the stores while leaving the island in panic so nothing left for locals. A lot of rumors going on, but you decide to believe only what you see. 
People are bond together in such times. It brings out the worst and best of human nature.
Most important: come back to Gilis! People, dive center, business can only survive if tourists are coming back. So plan your next trip to Gili Islands!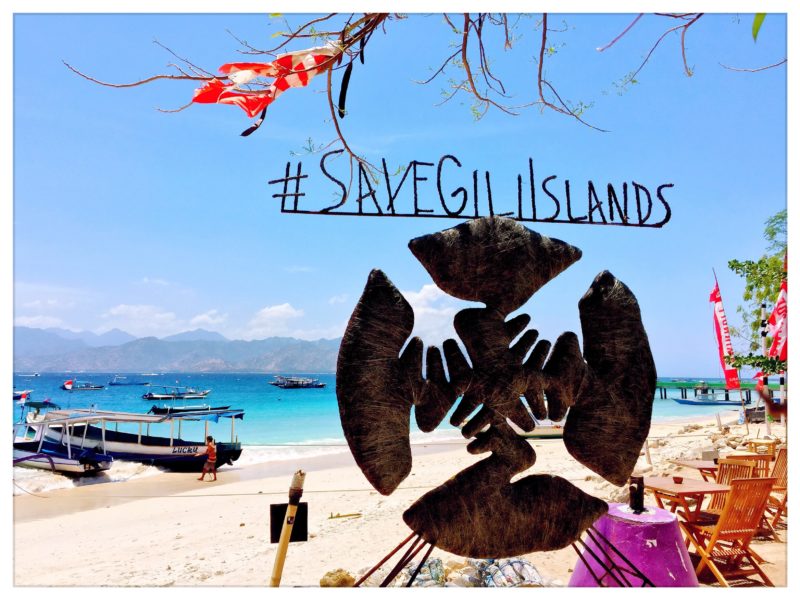 Inglorious Bastards
Due to the evacuation your instructor development course might be cancelled our rescheduled. You feel like a fool crying about this, but you do. 
Luckily your course director can do magic. She manages to organize another venue at an island nearby. When you hear the island's name, it suddenly all makes sense. 
This is where you stranded last year because of the volcano erupting in Bali. This is the place where you cried after seeing your first manta ray. And 6 molas at the 6th of November. Maybe it should be like that … 
The first thing that came to your mind is: Good God, the water is fucking cold there! 
True. 20-25 degrees water temperature. You have to go shopping warmer wetsuits immediately. Yeaaahhh… dive gear shopping. Better than any other bling bling shops in the world. Even better when it's on your loved ones cc. ?
You haven't met your scuba instructor development course buddies yet. But they seem to be an amazing group, already bonded with a very special spirit in these very special times. Nobody was hesitating a minute to follow your course director to the other island to become a scuba instructor there. Thinking about calling your group Inglorious Scuba-Bastards. 🙂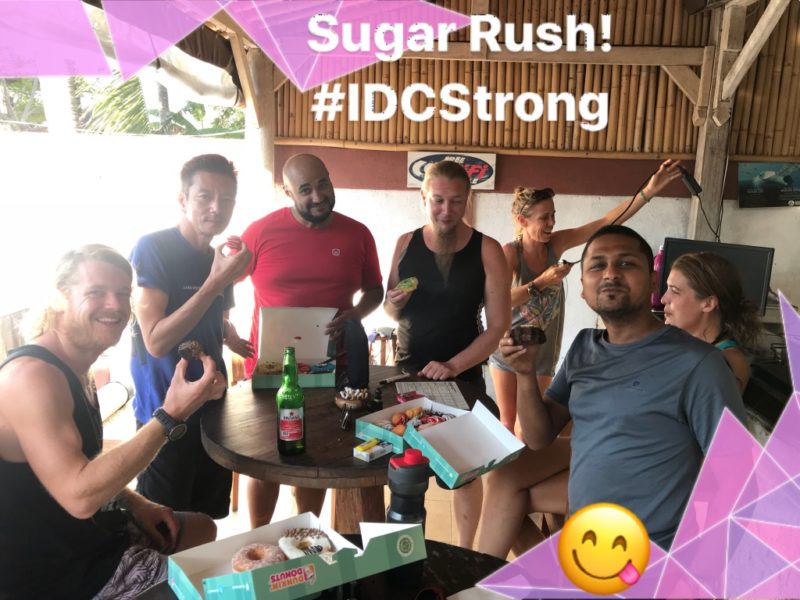 Grab action
You start to use Grab to order cabs. Having so much fun with it. Specially because the drivers are calling you with your nick name. "Hello, are you Unicorn?". 
Besides that one time you opened the door of the wrong car and the driver is shouting "What are hack you doing?!"
Vitamin Shock – and condoms
You can't sleep tight till 5 nights due to jet-lag and earthquake and mind games. Flashback from last year …
You decide to go into a pharmacy to get some natural globules to ease your mind. Something that doesn't make you dizzy, just helps to relax. No weed la!
At the pharmacy you explain "I want something to calm down, something natural to relax." She answers "Ah, you want condoms!"
Errr. Nope!! ?
After checking a lot of medicine at google (no tranquilizer please, no sleeping pills) you decide for Vitamine B 50 Complex. 
You take it – and get an allergic shock 5 minutes afterwards. Your skin is burning like hell…
Nice try. Better forget about anything to calm down. Better continue Yoga exercise and ease your mind. Eat a nutella waffle instead. ?
Asian food porn
Oh my God – have I mentioned the food?! You love to be back where everything tastes so damn good. You're getting fat laying around and eating the whole day – but cannot resist.
You need to dive … It pulls you constantly and you really cannot wait to be back in your beloved ocean.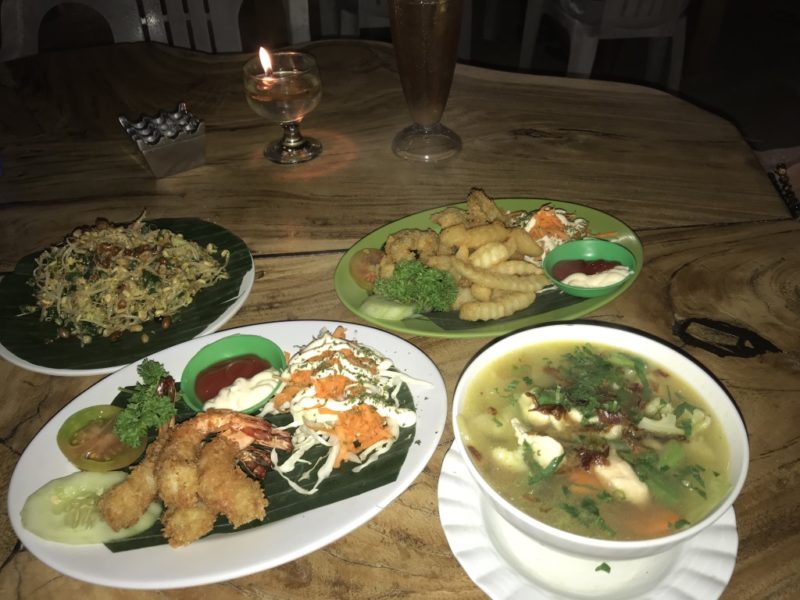 Saltwater and diving heals everything
And then you're really back. On a boat. Meeting old friends that are so happy to see you again after one year. 
It's not only about being salty again. It's everything around it: the smell of the generator, the sound of the waves, the smiling faces, the burning sun on your face, your hurting ass after a bumpy boat ride, the shivering on your way back because of cold winds, cold waters, rain and wet clothes – ok the last 5 points depends on the area you've choosen.
Well, literally this island has choosen you: 
Welcome back to Lembongan! 
Cold water, strong currents. Stunning dives. Manta, Mola – and amazing people.
Magic moment on your first dive eye to eye with a huge manta ray.
And a capital barracuda.
Searching for sleep
Have I mentioned the jet-lag? It really takes you a week to overcome it. Give yourself time. Listen to your Guru. Or friend. Or both. Most important: have patience with yourself and think about positive things.
So easy. So hard to believe when you're in the middle of a never ending daydreaming nightmare. ?
Make no plans – Just go with the flow
You can make plans. Your a damn plan making expert. Plans for your next step, for your instructor development course schedule, for organizing a donation campaign for Lombok and Gilis, for your next dive and plans for a better future.
Most of the time, it will come different.
It gives you a feeling of security – but there's none. You can just give your best, be flexible and think positive.
For you, that's one of the most important things you will learn on that journey:
Stay focused. Go your way. Make a plan. And then just let it go.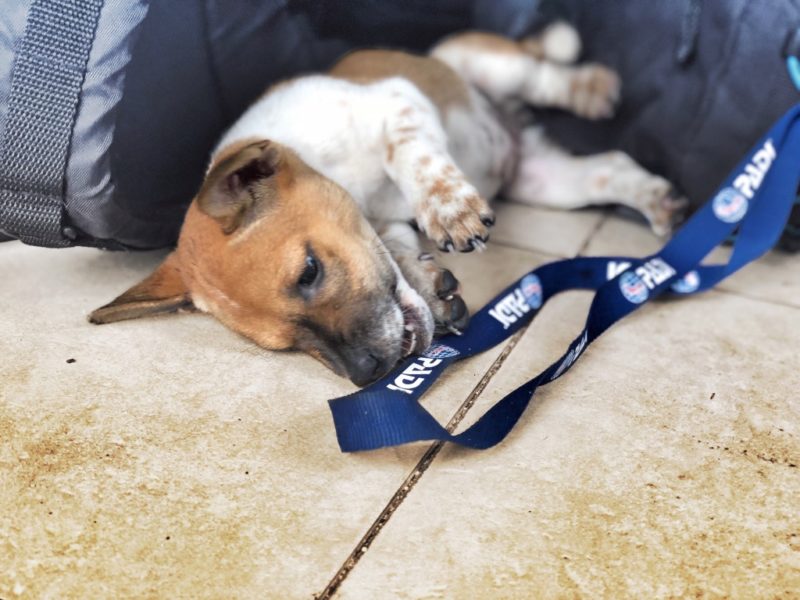 Per vivere davvero ogni momento
That's what happens when local friends are organizing lovely accommodations for you although the whole island is fully booked so you only have to relocate 5 times during 3 weeks. And you still remember their dogs name. The people there are one of the best hosts you ever met. So happy to call them friends. 
If you ever come to Lembongan, stay here:
First day of idc preparation course
What a perfect schedule, so well organized. You love it! (Think about the planning thing above ?)
Lot to learn. Can't wait. Awesome bunch of people. Scared? Yes.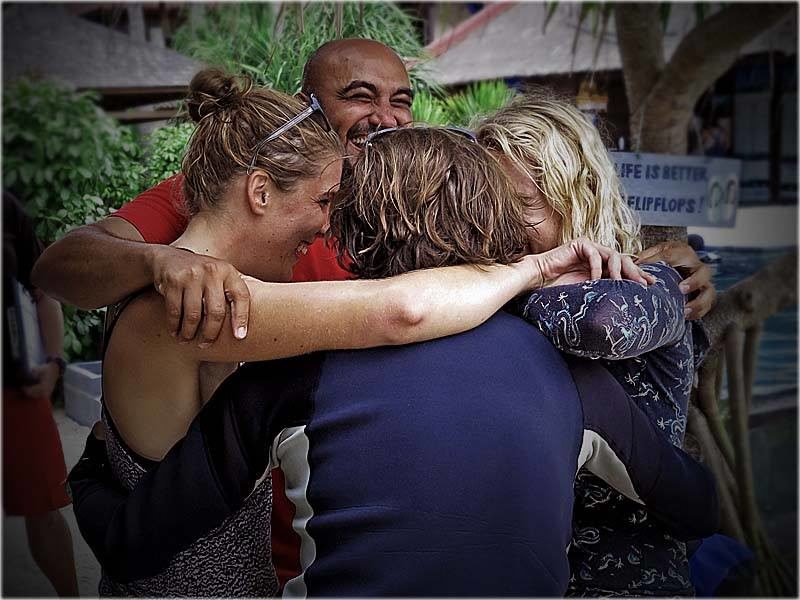 But first: sleep. 
You are awake since 6 nights, did 4 cold amazing dives, were on the boat 2 half-days, organized accommodation … and are just enjoying the ride. 
It's been a crazy, tragic, sad, gorgeous, exhausting week. 
And the party has just started. ?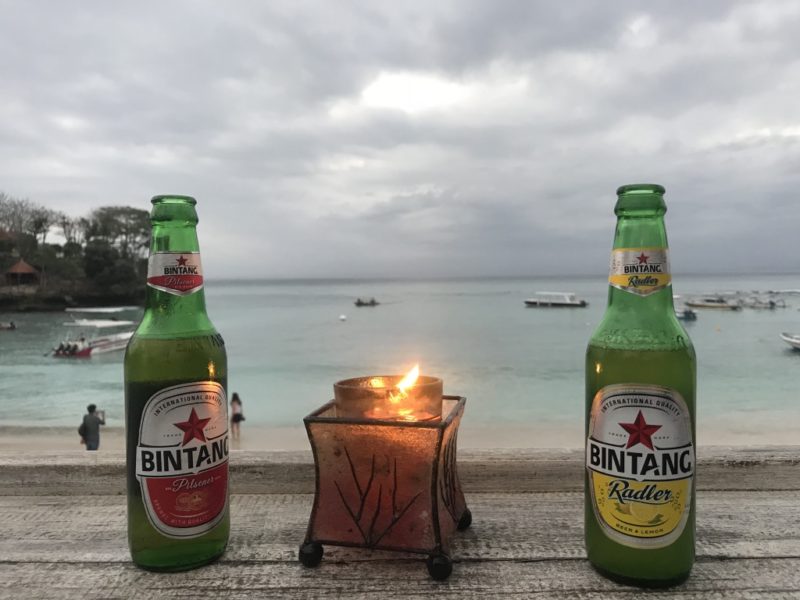 Tips to survive the instructor development course
Find moments or places to ease your mind. You will be overloaded anyway.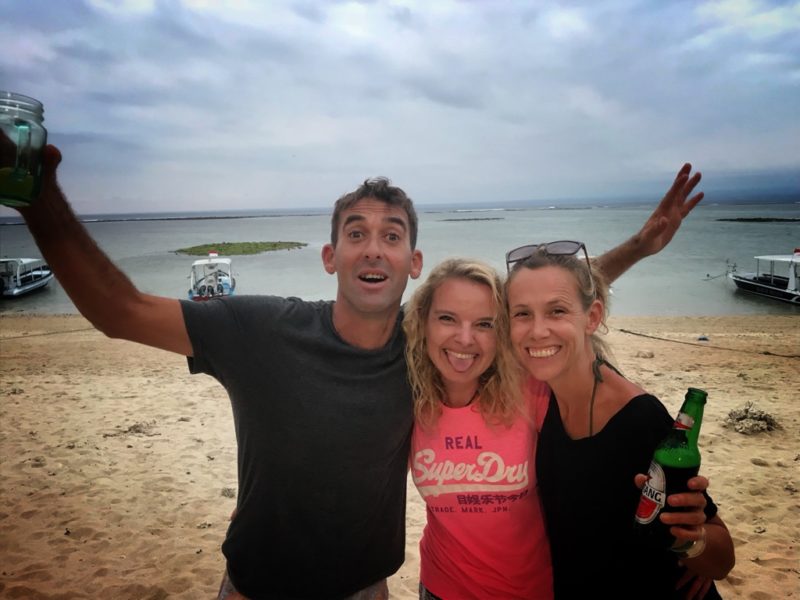 What works for you:
Look at the ocean. That's why you're here
Trance music or Reinhard Fendrich
Cuddle a puppy
Laugh with your group mates
Stay focused!! ? %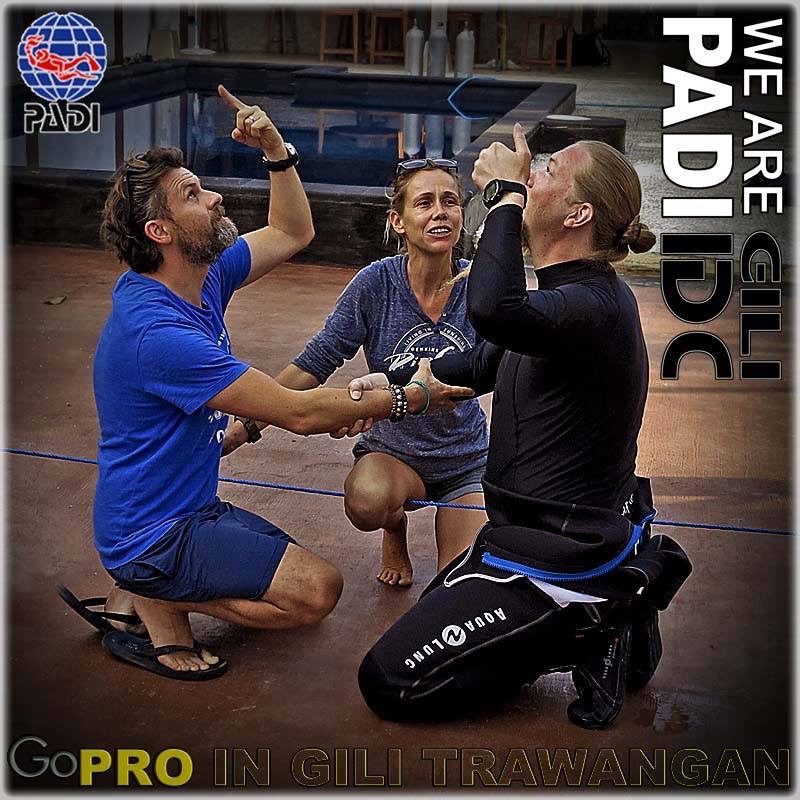 Learn to refresh quickly. You won't have much time to switch between theory – confined water presentations – rescue – lunch – smoke – teaching open water – laugh – check mails.

0-cheating tolerance.
No music during exams.
Feel the energy in your group. Although you're all coming from different cultures, countries, backgrounds, experience levels – you're all here for 1 goal.

 

Enjoy it! It's an experience you (most probably) only make once in a lifetime!

 

Don't be afraid of making mistakes. That's how you will learn the fastest way.
Be careful with JFK. ?
Eat healthy. Pay attention to what you eat. It must fit into your instructor development schedule.

 

Find out what works the best for you. And then take it and adopt it for yourself.
Visualize your goal: What happens when The Last Unicorn becomes a Scuba Instructor? Look and see her how she sparkles.

 

Keep it up. And release the pressure.
Stay away from humans that only consume your positive energy without giving something back.
You are very sensitive. Especially to earthquakes.
Being all alone brings your power back. Solitude is good. And dangerous. Because you are so used to it that you might not want to give it ever back.
You are mine. I am yours. Let's not fuck around.
Take care of yourself 1st.

 

Don't blame others. (Even if someone else smashes accidentally a tank on your finger and it's almost broken, pretend it was your fault.) We live and die (dive) together!
You love standards.
You're half-way results are good. Focus on open water.

 

You cannot tie knots. Not at all. Left-right disability. Practice it!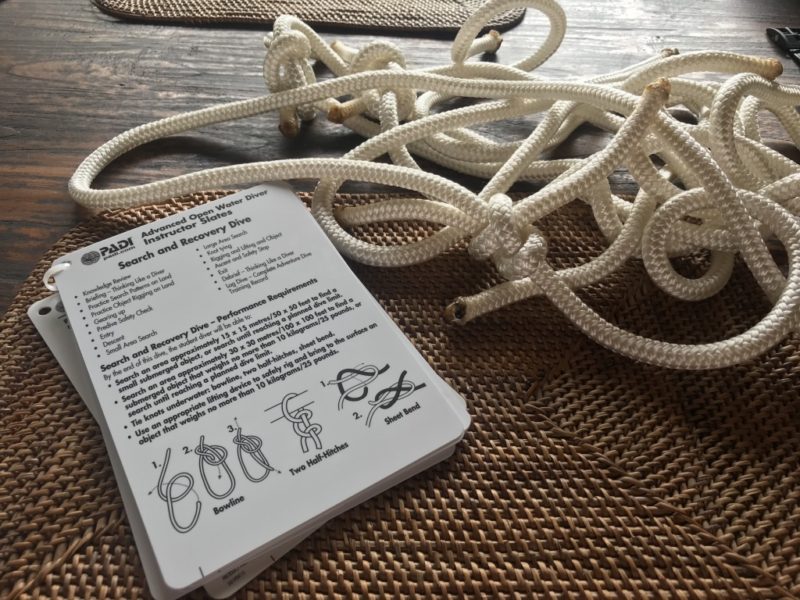 Stay alert all the times. Clumsy Vanessa.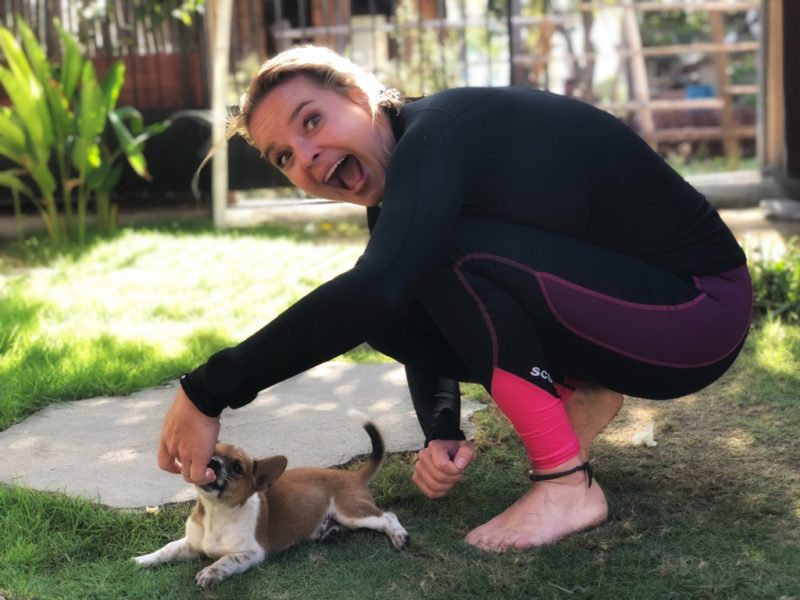 What I learned 2day on my way to become a Scuba Instructor
Keep contact with your former Instructors. They understand what you're going through right now and motivate you as best as they can. Their beautiful messages made you almost cry:
"Enjoy every mistake. You will never forget it again."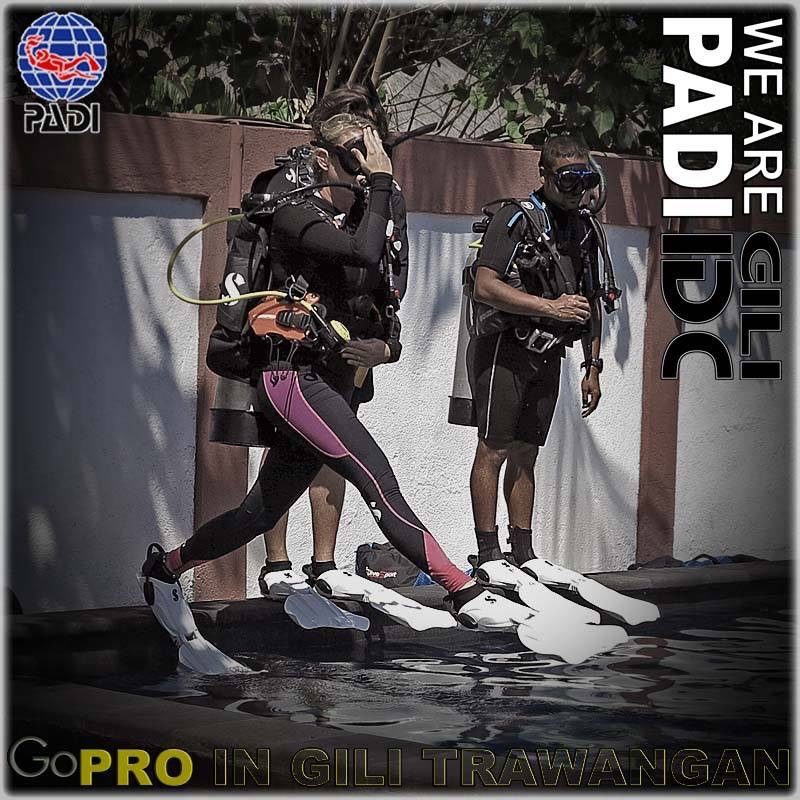 Indo planning beats everything! (Immigration office was closed due to a Muslim holiday, although they told you last week to be back today until 2pm. ? That was the most fucking expensive Burger at KFC you ever had! Make the most of it. And bring Donuts for your group again. Running gag, hey! ? Next try tomorrow, again ferry. Don't feel comfortable without passport. Thanks God your course director can reschedule the plan for you. Extra homework tonight to learn what you missed today. After 3 hours sleep last night. But still enjoying every idc second.)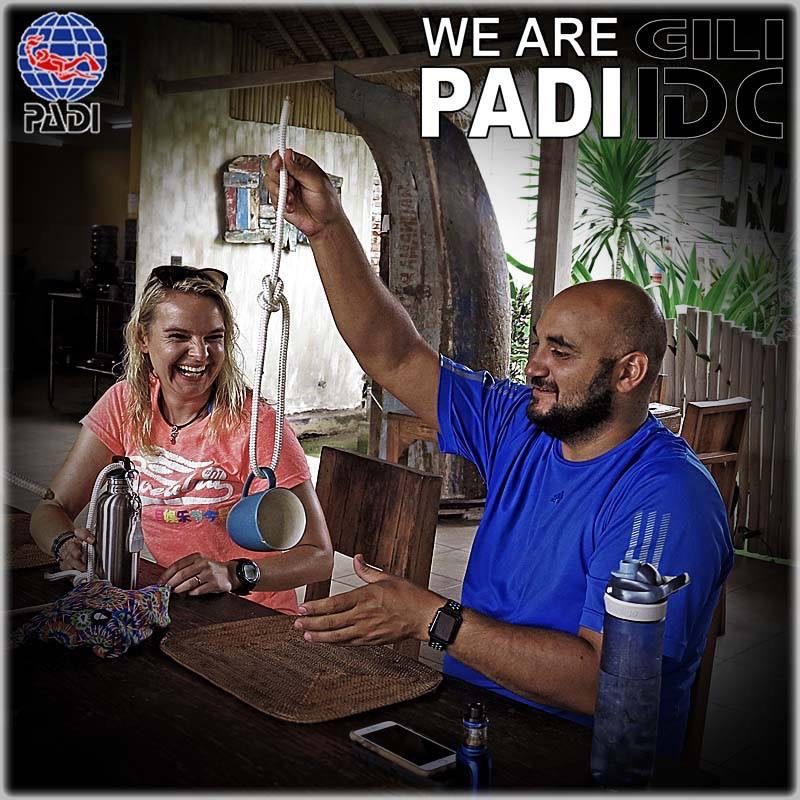 You belong deep down. 
First open water dive. Focus. Control. Finally on a dive boat again. Down again, so you just feel like home.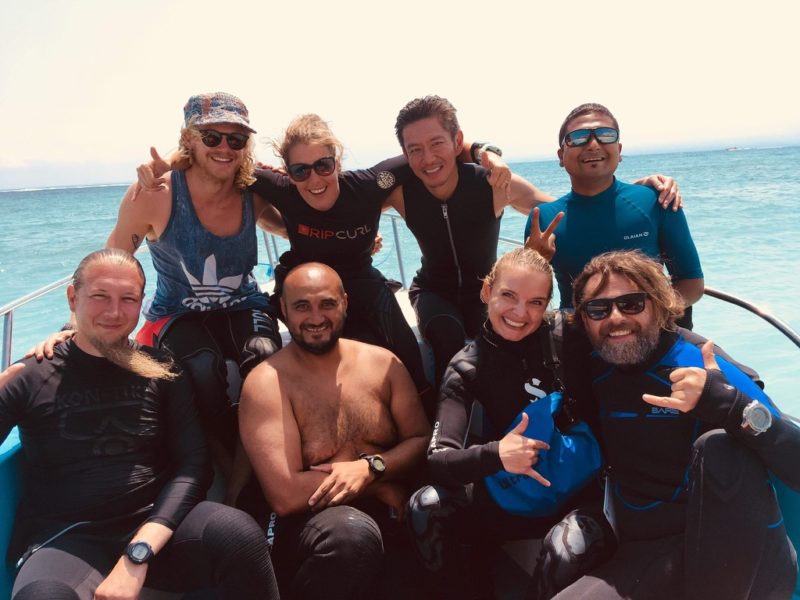 It all makes sense now.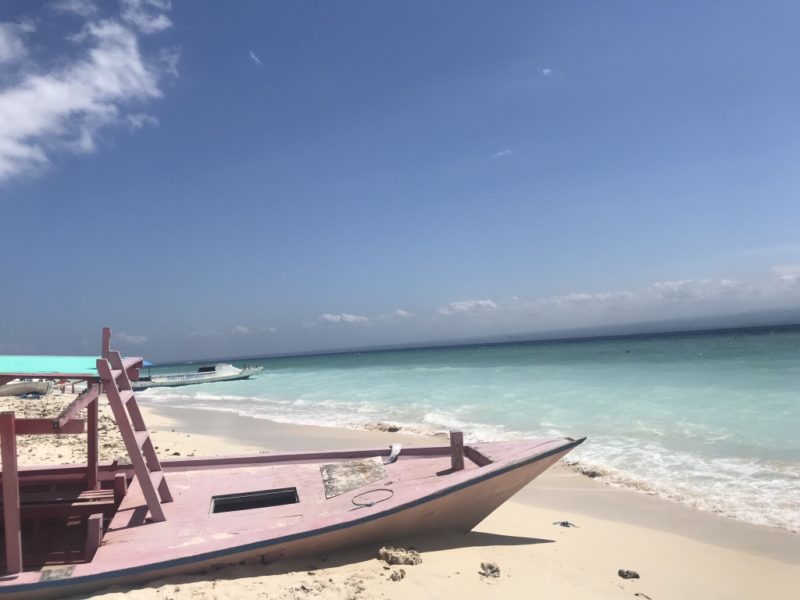 Later on the ferry you cry: Because you are so happy. Because you realize how much you learned from every Instructor who teached you so far. Especially during your Divemaster Internship last year. And you cry because you're 100% sure that you won't be able to leave the ocean and diving again for such a long time.
Songs can express your feelings. You cannot.
"Tell me what you hold inside. Tell me the backstreet of your mind. You're still lonely as a child. I can feel it coming. I can see it in your eyes, can see that you're not right. Do you feel something? Kept on drifting."
What I learned 2day on my way to become a Scuba Instructor
2:1 For German against Indo planning. Hello passport. ?
What I learned 2day on my way to become a Scuba Instructor
No problem with Rescue 7. Timing. Blow harder. 
(No comment, please!)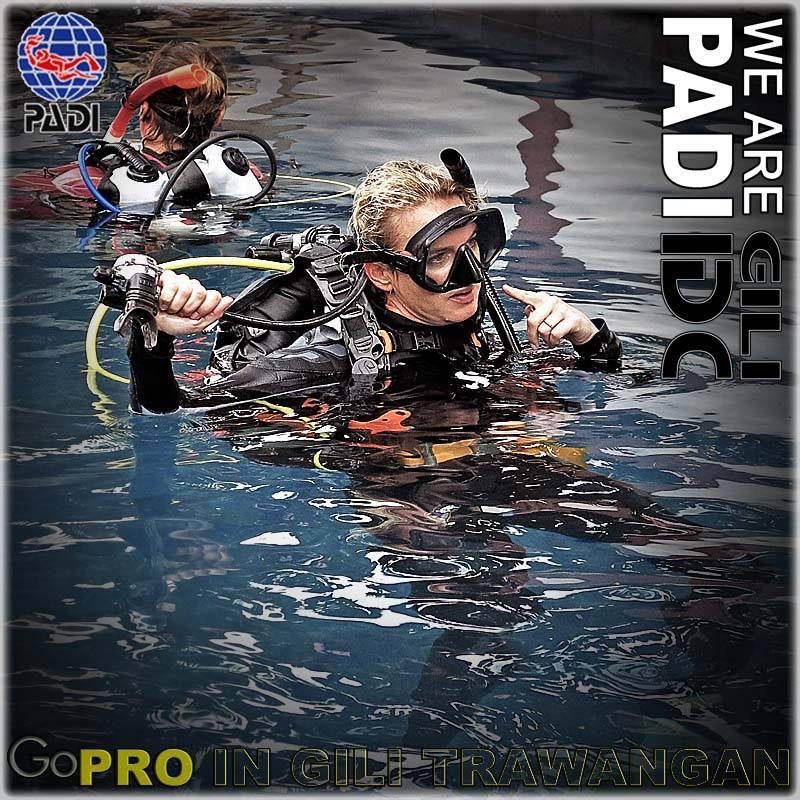 Don't assume that your group members know how to do the skills. And remember their mistakes. Practice it before on land with them!
And don't be scared of the language. You learned all the theory already in German. So, what's the problem in English? YOU DON'T UNDERSTAND A SINGLE WORD. Out of air depletion? Hemoglobin or haemoglobin abbreviated Hb or Hgb, is the iron-containing oxygen-transport metallprotein in the red blood cells of all vertebrates. All clear?!
Let your students fix their problems. Don't help too much in open water. Mastery learning. 
Worst day of instructor development course so far. Failed all two open water skills. No make-up during instructor examination in open water. What the hell are you doing here?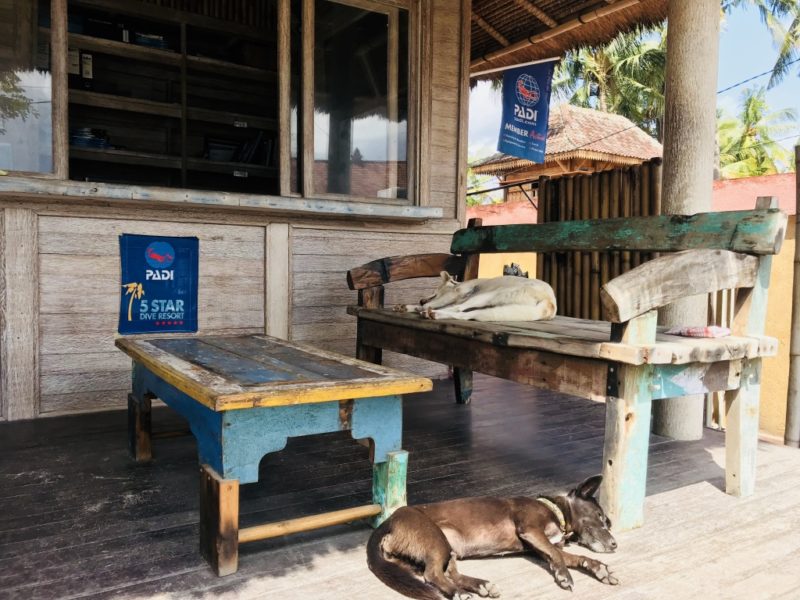 Don't feel like talking with anyone at all. Just want to cry alone. 
At least: everyone has the same shit day. We feel like we have to leave this ring of fire immediately, get out of this course. Cold water, communication problems, mess everywhere.
"Cause I got issues

But you got 'em too."
What I learned yesterday on my way to become a Scuba Instructor
Motivation desperately needed. Screwed the two open water skills. (Because your student had no plan how to do it. But it's your fault: You should have briefed him on the surface & force him to listen to you and show his mistakes clearly instead of thinking about…whatever.)
That's how she'll learn the fastest way.
Eyes on the price.

 

Love it. Change it. Or leave it.
You're back in the game. Two times score 4.8.
Let her go down again to practice teaching! You can't get enough.
Heaven and Hell are the same.
Plans changed for master scuba diver trainer preparation course. It's okay to have no plan.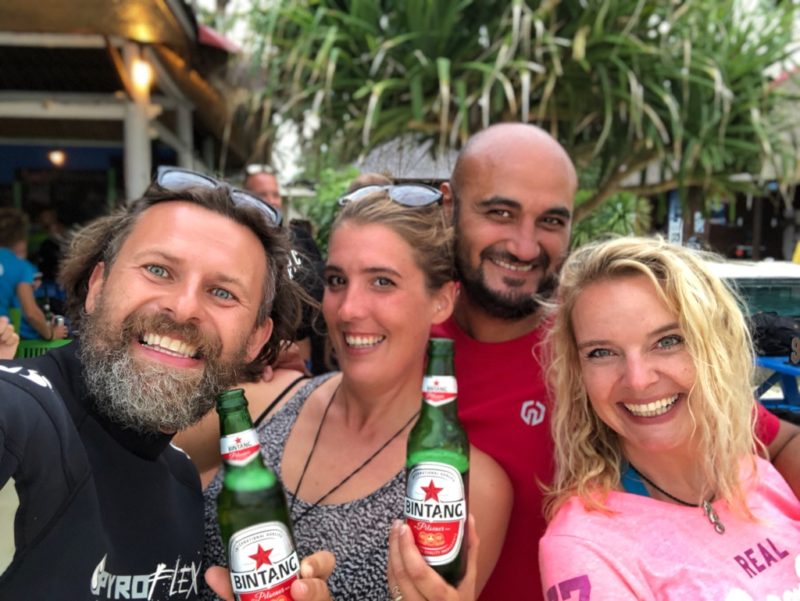 What I learned 2day on my way to become a Scuba Instructor
Crystal clear how to teach advanced skills. Except: liftbag. Your skill for tomorrow. And Rescue 4 out of air. You're in charge. Force them to follow your briefings on land and underwater. 
Do what they want you do do: catch mistakes.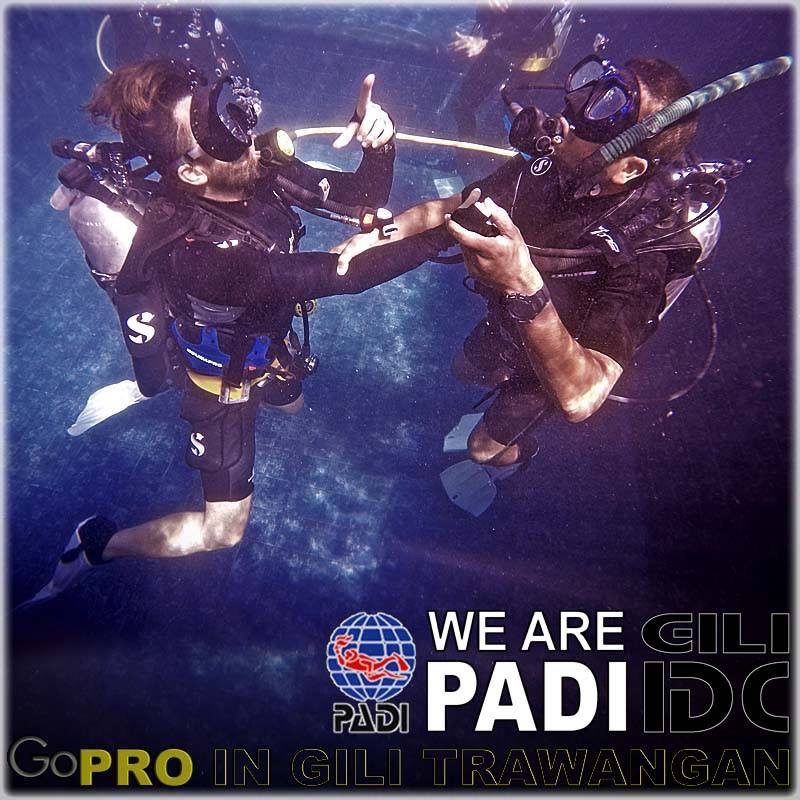 You're super structured, organized and clear in communication when it comes to diving. You start to behave like an Instructor. But always positive and ready to help others. Taking care of your own gear like it would be your baby. Others might not like or understand this. You don't care. You just do your thing now. And listen to Trance music as loud as you can. ?
Passed all second dive theory and PADI standard exams. No worries on theory & standards. Day finished after 15 hours. You still love it? More than ever!
Sometimes you just need a hug. How does your Staff Instructor feels that – and just did it? 
Another 3 earthquakes today. Still jumpy… and scared.
What I learned 2day on my way to become a Scuba Instructor
Focus on mistakes and let them repeat if they don't get the performance requirements!!
Take care of your liftbag. Otherwise it will float away and be stolen by pirates.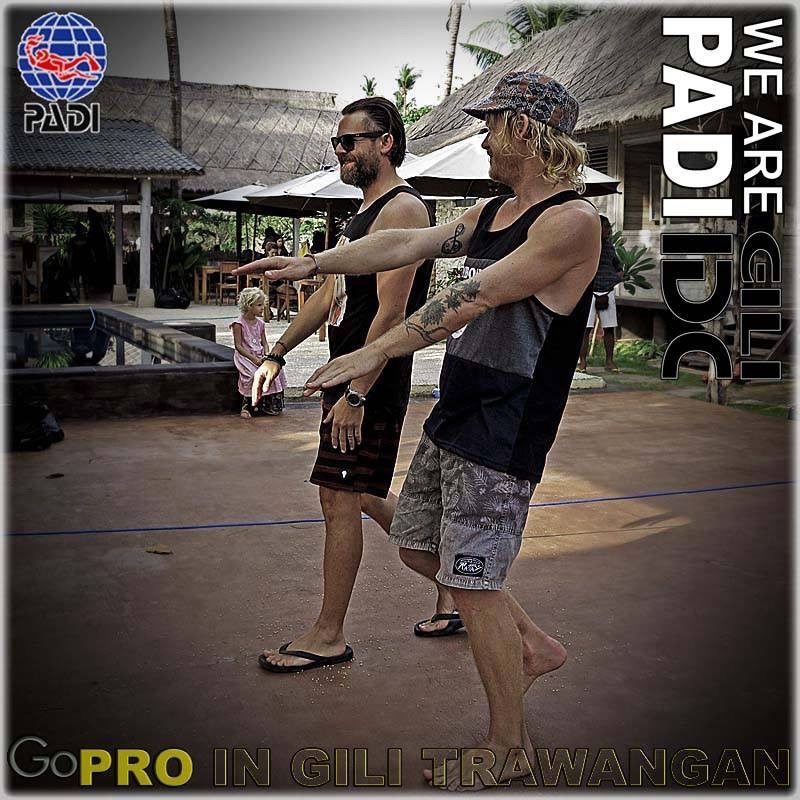 Even if you call the doctor at 5am because of strong pain in stomach & lungs you can still be 3 hours in 25 degrees water and perform. Passed one skill with 4.8 and screwed one skill because of missing performance requirements. Fuck. Rescue 7 ok.
Another open water skill presentation tomorrow. Plus 800m swim and confined presentations. 
Try to get healthy as soon as possible.
What could be better than seeing a bamboo shark on your waterskills assessment?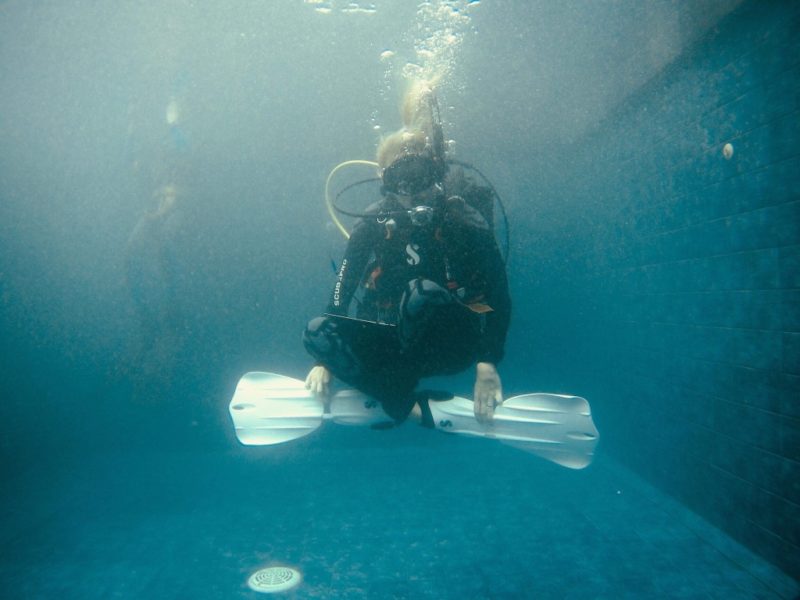 What I learned 2day on my way to become a Scuba Instructor
Sometimes antibiotics is your last chance to get rid of severe cold. But don't dive with medicine. 
EFRI is done. And fun. 
Finally PADI Open Water Scuba Instructor
You did it! You are a PADI Open Water Scuba Instructor!!
After 2 days of instructor examination, you finally made your dream come true. How long did you imagine yourself standing on the beach with this fucking certification in your hand!! 
And it doesn't feel like in your imagination. Reality is far better!! ???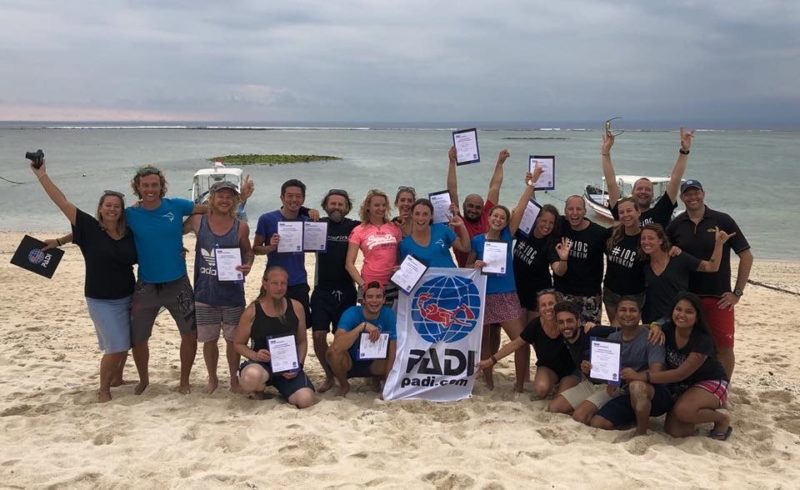 You can't wait to start teaching. To get into the ocean again. To show other people this marvelous world down there. 
It was all worth it.
The Deep Specialty dives make you aware how much you missed diving in the ocean. Deep diving. Depth is calling you, like always. Nothing changed – except you're a group of amazing newbie-instructors on a Spanish dive boat now! ?
Are you thinking about becoming a dive instructor? It will be the most exhausting three weeks you ever had. And definitely the best. This experience will last for a lifetime. 
If you're searching for the right place to realize your dream, here's your place to be: PADI Instructor Development (IDC) with Platinum Course Director Holly McLeod.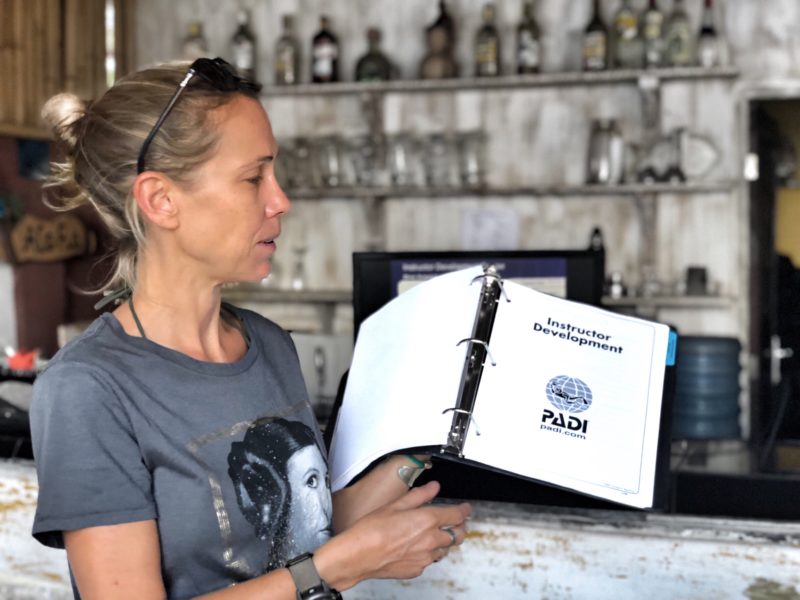 Holly and her team are amazing. Her super positive attitude, professionalism and passion in diving will guide you through all idc ups and downs. They will let you work hard. And you will have a blast!
And now? It's just the beginning. Never stop learning! ?
But life has other plans…
You have an accident with the scooter and break your foot at the same day after your Deep Specialty. 
The diagnosis at the hospital is good and shit at the same time: No cast. Not complicated. But very painful. 
It will heal, but it will take time. No walking for the next days. Or weeks. Not even a few meters. The worst thing: no diving.
All your plans for the next weeks are destroyed. So your budget calculation.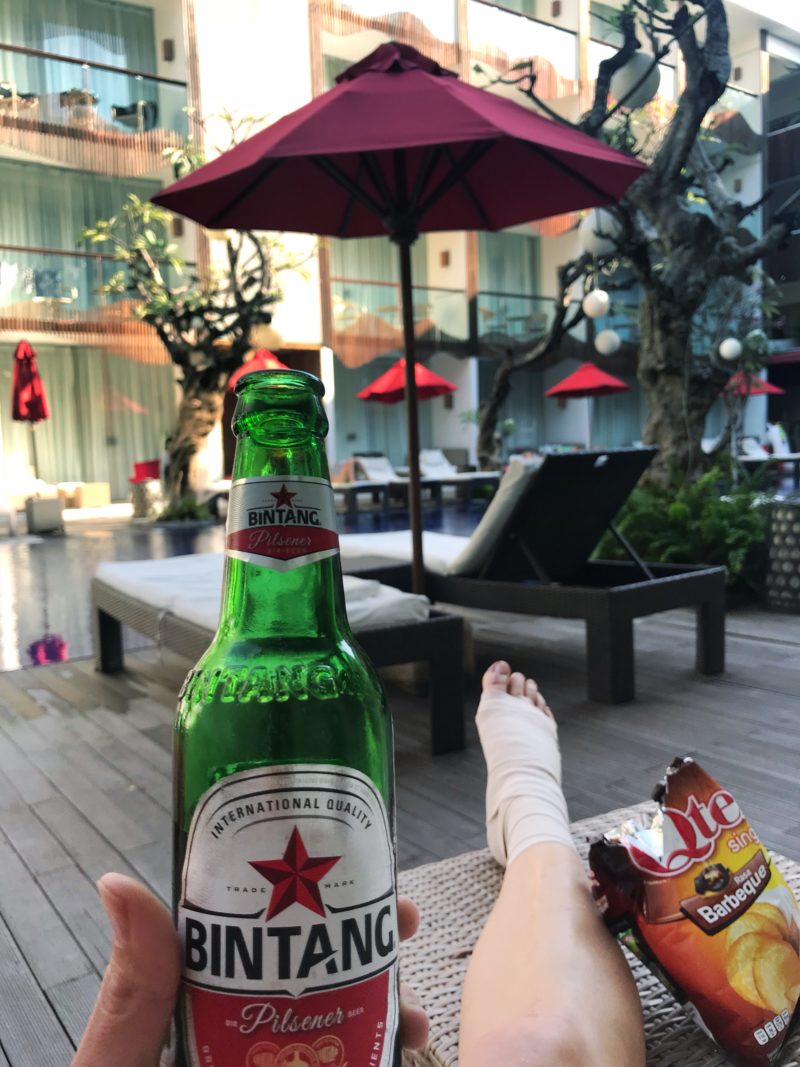 You feel like a bird in golden cage, hanging around in beautiful hotel on mainland and wait for… what?! 
To see the ocean again. Only 1000 meters to the beach. But farer away then Africa at the moment. 
You realize how important it is to stay in contact with your loved-ones. They are giving you so much energy, even if they are so far away. That keeps you up.
Thank you for all your beautiful messages and visits, guys! You made my days!!
But you won't give up. Not a second. You hang up your wetsuit on the balcony so you can see it everyday, you place your fins in front of your bed to motivate your foot to get inside them again as soon as possible and so you stare at these fins like you can hypnotize them. 
And you think about throwing your crutches on that girl who is swimming around in the pool in front of your nose on a huge white plastic unicorn!
There's a strong picture in your mind, similar to the one with the instructor examination certification at the beach: You see yourself on a boat, ready to back roll. You see the fins on your feet. This will happen in near future for sure. Stubborn Unicorn. 
You won't let a scooter crash your dive dream. 
You cry and laugh at the same time. Being a Shit-Scooter-Specialty-Instructor was not your plan. 
You hate it to rely on others help. You think about painting your crutches blue like the sea. Who can bring you some saltwater to your balcony, please?! It will heal everything. 
Everything happens for a reason.
Maybe you have to learn patience, most of all with yourself. Maybe your positive energy is tested. 
Forse era giusto così
Forse ma, forse ma sì
You don't care – you just want to go down again.
"My head's underwater, but I'm breathing fine…"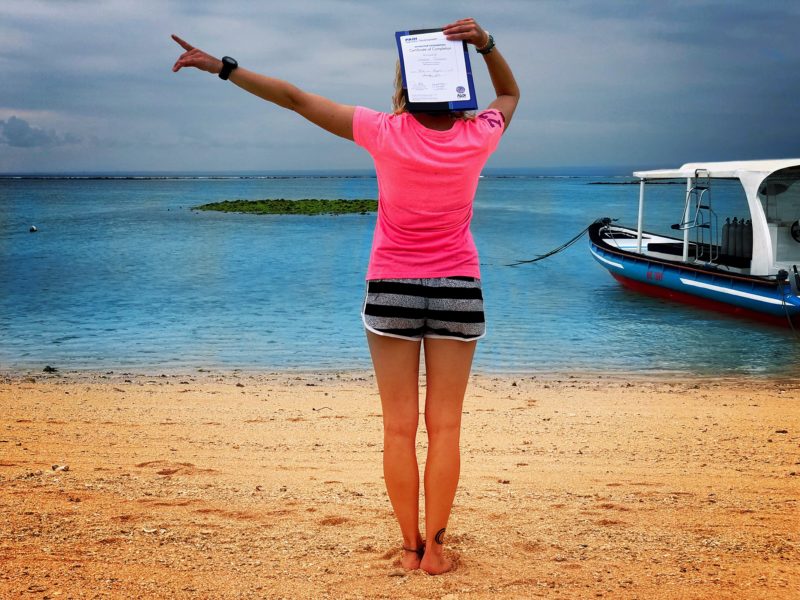 #IDCStrong
What a crazy bunch of people you met in your instructor development course! So many different nations, so many different opinions – but all united in one goal. 
Holly, Justin, Eliza, Andrea, Jose, Paris, Elia, Katharina, Nori, Paritosh, Hussam, Don and of course Dominik – you are simply amazing! I thank you from the button of my heart for having the time of my life with you! 
We'll be forever united in these memories. I'm more than proud not to call you my instructor buddies – but my friends.
Take care Scubanators – I wish you the best life has to offer!