Why you should do a Divemaster Internship
Ever thought about doing a Divemaster training abroad? Here are my personal reasons why you should definitely do it.
1. You learn so much about scuba diving. But you learn even more about yourself.
Within your Divemaster Internship, you will learn more about diving than you could ever imagine before. Of all scuba diving aspects, good and bad. And I swear, if you have a true heart for diving, you won't get enough of it. It's just the beginning.
But you will also learn so much about yourself. About your strength and weakness. And what you really, really, really want. Brutally honest. Instructional. Emotional. And it will have an impact on the rest of your life.
2. Diving can heal your soul. Go deeper.
If you ever doubt to do a Divemaster Internship, be aware that diving can heal your soul. Any wounded aspect of it. The sea will cover and uncover your feelings. Like waves … It will wash away your sorrows.
The sea heals everything …
Of course, you have to plan your Divemaster Internship properly:
Find a mentor who supports your dreams (e.g. your dive Instructor)
Find a supporter who believes in you (could be your partner, a friend, your buddy, your grandma)
Find the right Dive Center
Find the right Instructors to teach you
Find the right place to feel like home
Set a time (you can stay for 4 weeks or 4 years ?)
Save money to prepare in advance
Have an understandable and open-minded boss, who let you go to hunt your dream
Don't listen to people who try to hold you back and say you will fail
Do your paperwork … insurance, banking, visa, flights, accommodation …
But most of all: Believe in your dreams!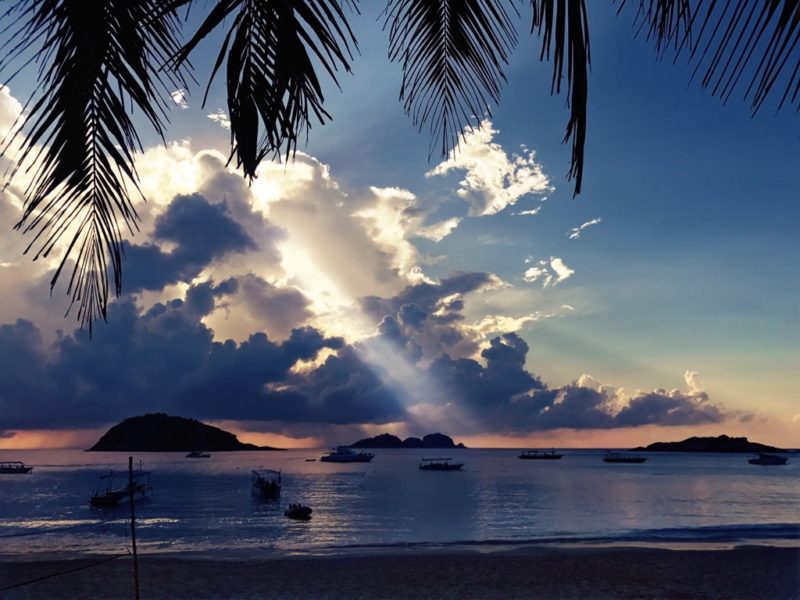 3. It's all about being part of a great team at a Dive Center
In the end it all comes down to your team. If you are a lucky fellow, your colleagues at the Dive Center will not only be co-workers, but become your friends.
You will work (physically) harder than ever before in your life (especially if you are a 'desk jockey' like me). And you will do things that you won't name your favorite task (like finding used condoms while cleaning the beach).
But if you have a team to kid around, you will take it with a simple smile. You will be proud of achieving a goal together. You will be deeply thankful for every advice and chance they'll give you to learn and grow in diving. The feeling of being part of such a team is priceless.
This goes out directly to my Divemaster Internship team:
It has been a privilege to work with you guys!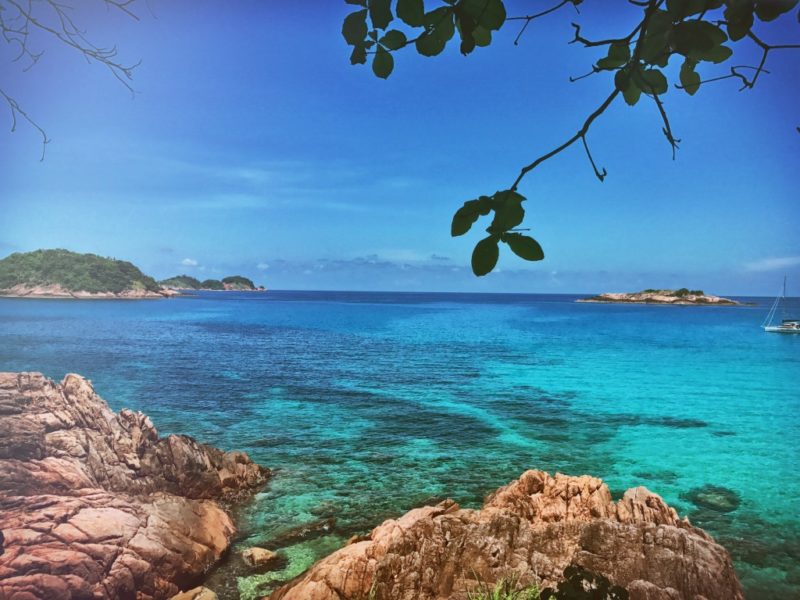 4. Eat like a horse and lose weight anyway
Ever thought about bringing your running shoes to your Divemaster Internship? Well … you can do it. But I bet you won't use them. You will never work so hard physically than as a dive pro.
Hanging around in a hammock and listening to the sound of the ocean all day long? Bullshit.
The only time you might have, is a minute to lie down during your lunch break – if you're fast enough to change your wet clothes, talk with your clients, wash the gear, prepare the gear, eat, smoke and digest.
Most of the time, you won't have that minute. To avoid misunderstandings: It's so cool to have a cross fit training every day. It shapes your body (and mind). And with the hard work in a Dive Center, you won't have time to think too much.
You will haul so many dive tanks that you'll forget to count them already after one day.
It is the mega workout of your life, especially when the Dive Center is busy. Carry fifty tanks to the Dive Center next door? No problem. You can cry about the pain later. Promise: You will love it. And sleep like a baby. ?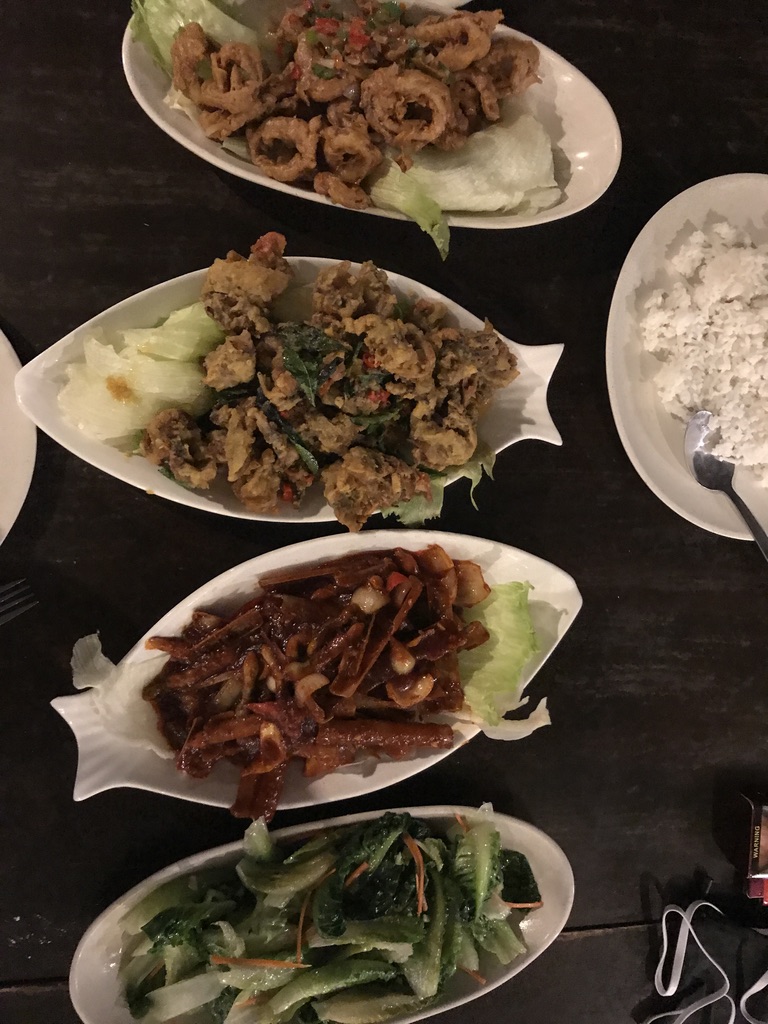 5. Be humble. Protect our blue planet.
The beauty of our ocean still inspires me during every single dive. Sometimes I feel so blessed seeing that indescribable beauty, that I start crying after a dive. Or even during the dive. Simply overwhelmed.
But you will see also a lot of damage while diving. Some caused by your own divers, some due to overall pollution, some for a natural reason. But for sure it will make you aware how important it is to protect our oceans.
By the way: Take a look at those amazing two girls from Bali. A social initiative driven by youth to say Goodbye to Plastic Bags. An international movement of inspiration to save our seas, to empower youth and to make every small step count.
"There are so many significant problems facing mankind, but as divers this is truly our cause. If scuba divers do not take an active role in preserving the aquatic realm, who will?"
– John Cronin, PADI Co-Founder
6. You build relationships with dive buddies that can last a lifetime.
Scuba relations have their own magic. It can be the best (or worst, of course) relationship of your life when you are as obsessed by diving as the others.
At home, you might have a problem of finding people who are thinking and feeling the same about diving. You might even be annoyed and tired of explaining again and again what diving really means two you.
Now you are in the midst of like-minded souls.
7. Never stop learning.
Your problem-solving abilities will come to a whole new level. Ever thought about what to do when something will go wrong 30 meters down? You should.
You will learn how adjust your dive skills demonstration, how to keep a student calm when a shark is coming (or was it a turtle?), how to distract nervous dive students (let them do selfies), how to deal with boring dives (they don't exist!) and bad viz (use your flashlight and point on a beautiful … sea fan) and how to help someone to get back to the boat because the scuba diver is adorably diving with 82 years.
You will learn more about reading a dive site, understanding weather conditions, tides and currents than a book could ever tell you. Just by listening to your Instructors.
A propos "listening": You will hear a lot of crazy, hair-raising, funny, heart-breaking scuba dive stories if you have cool Instructors at your Dive Center. You will also hear many scuba tales … Well, scuba divers are risk takers. Go and discuss that point with your insurance, not me. 😉 No, seriously: Safety First!
During your Divemaster Internship you will have the possibility to watch a lot of other Instructors and Divemasters solving problems and teaching. You will admire them for their teaching strategies and diving qualities. You will also get a lot of good (and sometimes strange) advices.
Pick out the ones that fits best to you and your approach of diving. Stay open-minded and find the best way for yourself.
8. You become more aware of all aspects of diving
Within a Divemaster Internship you spend a lot of time watching people preparing for diving. "Watch and learn" should be the principle of your Divemaster training. It will train your knowledge of human nature, your sensitivity, empathy and self-confidence.
You will also learn to fix ill-configured diving gear or solve a problem with a "somehow strange making noise regulator ".
You will face this kind of problems day by day. First they scare you because for some of them you won't have the one and only best solution. That's why you should never be scared of asking your great team. They will always help you out. (And laugh with you later as soon no customer is around – because you still cannot remember where the spare O-rings are).
But these duties help you to become more aware of potential problems your divers might have.
You learn what it really means to plan a dive and to predict a dive problem. Every mastered challenge will heighten your awareness of your own dive gear and your own physical and mental state.
Want to know more about my personal experience, read my Divemaster Internship Diary.